You can smell the Chestnuts roasting here in Tuscany this autumn.
November 18, 2020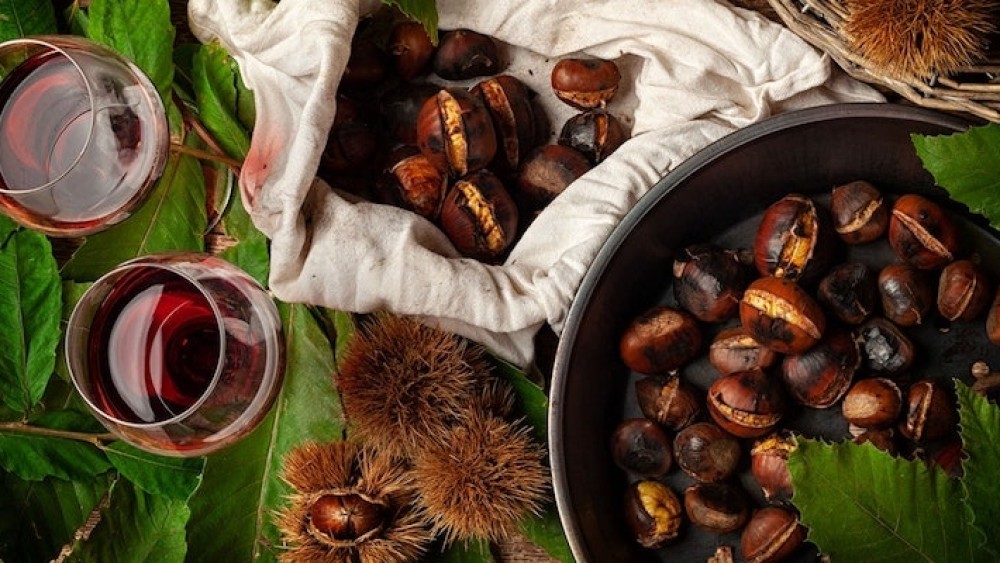 Tuscookany, Casentino, Chestnuts in Tuscany
Are you dreaming of eating roasted chestnuts at thanksgiving around a crackling fire? Fall is the season for roasting chestnuts! Even though the chestnut is popular worldwide, the use of the European chestnut as a food originates in Italy, but how did it gain its autumnal reputation?
These delicious nuts typically fall off the chestnut tree from mid-September to November and are harvested by simply picking the nuts off the ground. In general, a ten year old chestnut tree can produce up to 20 kg of chestnuts in a season. If you want to know why chestnuts are considered a festive snack, look at this article: Roasting chestnuts: a holiday tradition for many.
The chestnut tree is a part of the genus Castanea, which accounts for the Italian word for the nut: castagne. In October and November there are Roast Chestnut festivals, organised all over Italy, called "castagnata". Castagnatas are dedicated to chestnuts and the different ways that you can eat them. There are poems, legends and stories associated with particular chestnut trees such as the Castagno dei Cento Cavalli (the chestnut tree of one hundred horses) on the slopes of Mount Etna, which is said to be the largest and oldest chestnut tree in the world. This particular tree had a circumference of 57.9 m! Although the 4,000-year-old tree has now split into several large trunks they still share the same root system. Legend has it that the chestnut tree of one hundred horses earned its name after sheltering a mysterious queen and her company of one hundred knights and lovers during a stormy night on the mountain. More information on this incredible tree can be found here: Hundred Horse Chestnut Tree
Chestnuts are eaten raw, roasted, dried, candied, pureed or made into flour, all over the world. They are, however, especially popular in Mediterranean countries. Thousands of years ago the Greeks, near the Mediterranean Sea, weren't able to grow many grains so they started to harvest the chestnuts to make use of their fat, fibre, mineral and vitamin content. They are full of vitamin C, zinc, folate, potassium, copper, selenium and magnesium. This versatile food is a great source of nutrients and all you need to do is go into the woods and collect them.
It has been said that the first ever chestnut to be roasted was in Rome during the 16th century, as they were sold on the street as a snack. To this day they are still a very popular authentic street food throughout Italy. The Italian name for a roasted chestnut is 'caldarroste', and they are sold in paper cones on the street. They're quick and easy to cook. See below how you can roast them yourselves.
Even closer to home is the Casentino Valley where our villa, Casa Ombuto, is located and also close to Tuscookany's other villa, Torre del Tartufo. Historically Casentino used to live from the produce of chestnut flour.
The chestnut is still an authentic ingredient in many Tuscan recipes, for example, in soups, cakes, breads, sauces, mousses and salads. If you join one of our autumn classes next year at Tuscookany we can have fun together cooking with delicious local chestnuts. In the mean time, look at this amazing chestnut thanksgiving recipe: Thanksgiving Stuffing with Roasted Chestnuts and Spicy Sausage.
The chestnut tree is not only famous for giving us the rich nut but also provides a great wood. Chestnut is of the same family as oak, and likewise its wood contains many tannins. This renders it very durable, gives it excellent natural outdoor resistance and saves the need for other protection treatment. Much of the wood used in our villas, Torre del Tartufo and Casa Ombuto, are made from chestnut wood. Casa Ombuto is even surrounded by 10 acres of chestnut forest! We have paid homage to the chestnut tree and all that it has given us by naming one of our favourite suites after it, 'Castagna'. Many Italians pick their own chestnuts from wooded reserves, which charge by the final harvest weight, much like the "pick your own" berry or corn patches in the US. Customers carry home their basket of "castagne", and roast them. The cooked chestnuts are wrapped in a large cloth and rolled along the tabletop to loosen the shells. Many a fall evening is spent in Tuscany around the fireplace, peeling piping hot chestnuts straight from the embers and washing them down with the season's new wine. If you are unable to visit Tuscany this autumn for this authentic experience then here is how you can roast chestnuts in your oven at home. They will make a great thanksgiving Aperitivo!
1. Gather your fresh raw chestnuts together and preheat the oven to 425 F/220 C
2. Using a sharp knife, make an X-shaped cut on the round side of each chestnut. This critical step keeps them from exploding from internal pressure when heated and makes peeling easier after roasting!
3. Arrange chestnuts on a baking rack or baking sheet.
4. Transfer the chestnuts to the oven and roast them until the skins have pulled back from the cuts and the inside has softened. The actual time required will depend on the chestnuts but will be at least 15 to 20 minutes.
5. Remove the nuts from the oven and pile them into a mound in an old towel. Wrap them up and squeeze hard - the chestnuts should crackle! Allow them to sit for a few minutes.
6. Unwrap the towel before pulling and snapping off the dark shells to reveal the creamy, white chestnuts. While peeling, make sure you also remove the papery skin between the shell and the chestnut.
7. Be sure to wash them down with a glass of Italian wine to get the full experience! To learn more about wines look at our blog: Call a friend and open a bottle of wine, as this story is juicy!
Enjoy!

Written by
The Tuscookany Team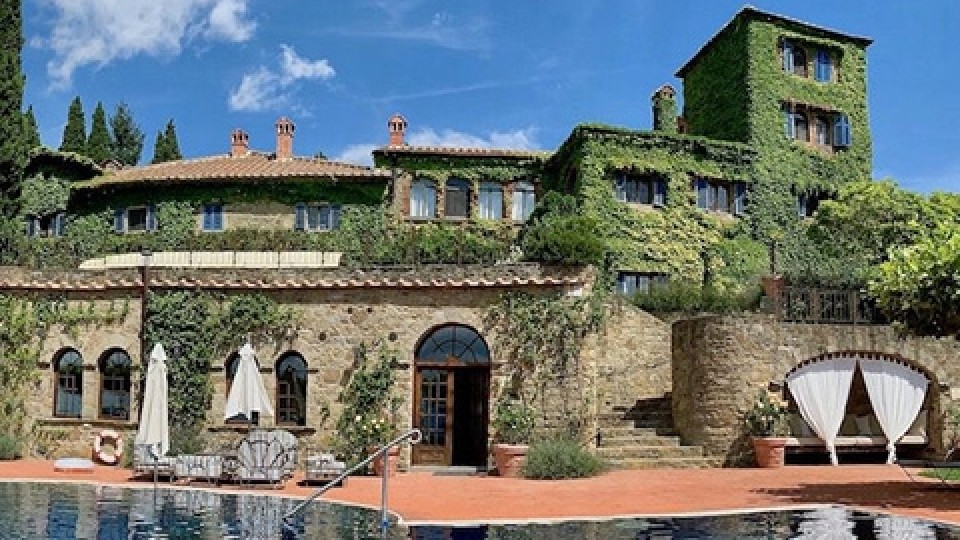 Interested in our cooking courses at one of our Tuscan villas?
Do you want to enjoy our Tuscany cooking classes with plenty of time to explore in your free time, all while staying in an amazing villa?
Reviews
How our guests experienced the Tuscookany courses
Reviews from our former guests made about their visit to Tuscookany on TripAdvisor, facebook, Twitter, Google, Chow and Yelp.