Tuscany Cooking Classes - Programs
Tuscany cooking classes are the perfect way of learning to cook great food while at the same time discovering and enjoying the regional culture and cuisine. Our cooking classes allow you to immerse yourself in the culture and lifestyle of Tuscany and learn to cook authentic Italian or Mediterranean cuisine at our Tuscany cooking school in an informal, safe and friendly environment. You will experience the passion of the Italian kitchen and, most importantly, have loads of fun while cooking up a feast. Our cooking school in Italy has been rated by The Observer newspaper as one of the "Top ten cookery schools in Europe".
Cooking holidays in Italy
Tuscookany has more than 20 years experience in hosting Tuscany cooking classes in our luxurious villas. You will stay in stylish accommodation on location and cook in our well equipped kitchens with guests from all over the world. You will enjoy the meals you created together with your fellow cooks complimented with superb Italian wines. There is plenty of time to explore the area or just relax and enjoy your home away from home in a spectacular setting with new friends.
Non participating guests participate in everything except the actual lessons
It is also possible to bring along a non-participating partner who can spend the day enjoying the surroundings, sightseeing or playing golf and then join the group at dinnertime as well as joining in the excursion. For all Italian and Mediterranean cooking classes you will receive a cookbook including recipes of all the dishes made during your stay, an exclusive apron and a certificate on completion of the course. The chefs have chosen dishes that can easily be made at home, using ingredients that you can usually find in most general or specialty stores.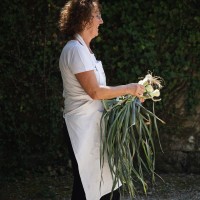 Fresh and healthy
We pride ourselves in having organic vegetable gardens and use vegetables in season from our own plots and local markets. Other ingredients you will use are bought each morning so you will be working with fresh produce. Throughout our Tuscany cooking classes you will learn about the ingredients and the traditions around the dishes as well as food presentation and wine choice. We can cater for vegetarians, vegans and have experience with guests having wheat or dairy intolerances and will show you how to adapt dishes so that you dont lose out.
Reviews
How our guests experienced the Tuscookany courses
Reviews from our former guests made about their visit to Tuscookany on TripAdvisor, facebook, Twitter, Google, Chow and Yelp.