When life gives you lemons pour some vodka over them and make limoncello
March 24, 2021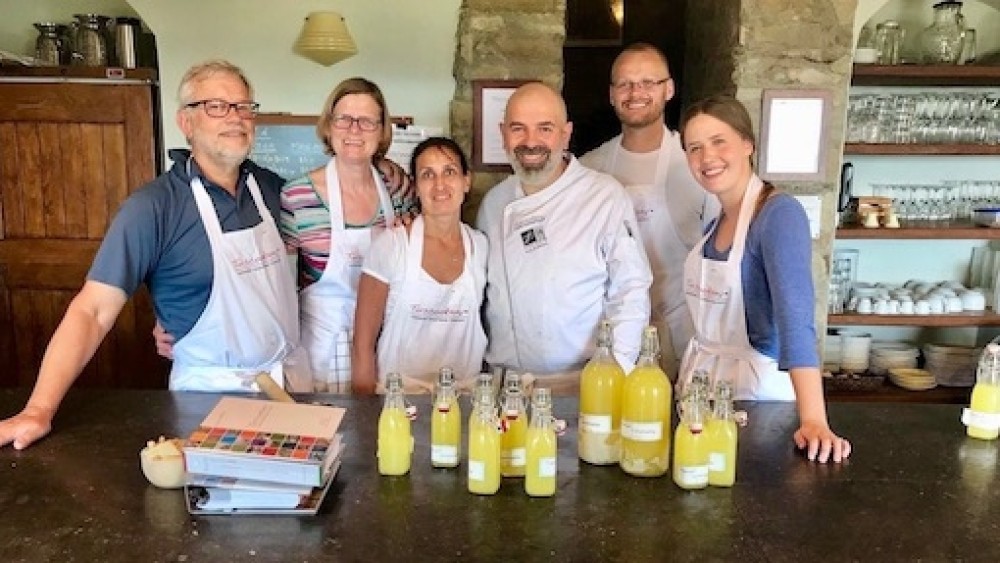 When life gives you lemons, pour some vodka over them and make limoncello! Have you made this bright liqueur before?
Limoncello is the Italian word referring to an intensely lemon-flavoured liqueur most famously associated with, and produced in, the south, but also very popular throughout the whole of Italy. What is its history and how can you make it? Keep reading if you want to learn more about this delicious, boozy drink!
If you have visited the south of Italy before you would not have missed the many shops proudly displaying this bright yellow liqueur. Although you would expect it to taste sour it has a more of a sweet and soothing taste. To appreciate Limoncello to its fullest, it should be served at a very cold temperature, which makes it more refreshing in the warmer seasons. This is why we, at Tuscookany cooking vacations in Tuscany, always serve our limoncello after dinner at its coldest and straight out of the freezer (to be quite honest, some lunches also end with this nectar too!). Italy is the world's largest producer of lemons so, naturally, Italians have developed a delicious way to use this plentiful fruit. Citrus trees dot the landscape throughout Italy but along the Amalfi Coast you will find lemon trees growing in abundance.
Limoncello is made using a combination of lemon rinds washed in water, Vodka (or a grain alcohol), water and sugar. The best limoncello comes from the big, ripe lemons of the Mediterranean but any variety of lemons can be used. The mixture is made using approximately 8 lemons to 1 litre of alcohol. Added to this combination are approximately 420 g of sugar and 900 ml of water. Firstly, the lemons are peeled, leaving a little white attached to the peel. The peels are put in a large container together with the alcohol and left in a cool place for at least 4 days. The container is gently shaken a couple of times a day. On the fifth day a syrup is prepared from sugar and hot water. It is stirred for 5 minutes until the sugar has dissolved and then cooled. The lemon-scented alcohol is strained through gauze or a strainer, the lemon peels discarded and the alcohol mixed with the syrup. The limoncello must then rest for 2 or 3 days. It's easy to make it yourself. The process is, however, quite tedious but absolutely worth it! While waiting for your citrusy limoncello, read about some other classic Italian drink, such as the bitter truth about amari : We will tell you the Bitter Truth about Amari in our blog
There are many different theories on the origins of Limoncello but it has always been a big mystery in Italy. Legends have it that Limoncello, and other liqueurs of fermented spices, fruits and herbs, were developed in convents. In the early 1600's the nuns of the Santa Rosa convent in Conca dei Marini were using this citrus-based liqueur to give their famous lemon pastry sfogiatella Santa Rosa its authentic taste. However, some say that its origins are linked to the events of the family of the businessman Massimo Canale in Capri, who, in 1988, registered the first trademark "Limoncello". The liquor became even more popular from the beginning of the 1900's in a small boarding house on the island of Azzurra where the lady Maria Antonia Farace took care of a rigorous garden of lemons and oranges. During the post-war period her nephew opened a bar near Alex Munte's villa. The speciality of the bar was the lemon liquor made with her old recipe. Some recall the peasants and fishermen's custom of drinking a little lemon liqueur in the morning to ward off the cold. However, in his article entitled L'invenzione della tradizione (The Invention of Tradition), Lee Marshall argues that we do not have any historical documentation regarding the use of Limoncello before the beginning of the twentieth century.
From Capri to Costiera, Limoncello's fame soon reached Milan where it was called Limoncino. It then made its way down to Rome where it was called Limoncello and finally reached Naples where downtown bars proudly started displaying the cheery bottles filled with yellow liquid gold.
As is done throughout Tuscany as well, with our cooking schools being no exception, the chef at Tuscookany often makes Limoncello with their groups. The group can then take a bottle home so they can enjoy their own Limoncello with their friends at home. Franco Palandra, the chef at Torre del Tartufo, uses his grandma's old recipe. She lived close to Naples. When you come to Tuscookany make sure you request a Limoncello lesson!
Here is a Limoncello dessert recipe for you to get started:
Here are some citrus cocktails for you to make with your Limoncello:
Limoncello Spritz:
Ice
50ml Limoncello
60ml Prosecco
30ml soda
1 lemon
Fill a wine glass with ice. Pour over the Limoncello and top up with the Prosecco and soda. Stir with a long spoon, and garnish with some lemon.
Limoncello Mojito:
3 large sprigs fresh mint plus extra for garnish
2 shots Limoncello
2 shots White Rum
soda water to top up
1 tbsp sugar
1 lemon cut into wedges
Ice
Put the mint leaves, sugar and fresh lemon into a large cocktail shaker and muddle, bashing the lemon and mint until most of the juice is released. Add the Limoncello and rum and top up the shaker with ice. Shake until thoroughly mixed and ice cold. Divide the cocktail between two high-ball glasses filled with ice and top up with soda water. Garnish with mint and lemon if desired.
Tuscan Pear:
1½ ounces pear vodka (Grey Goose La Poire)
¾ ounce Limoncello
¾ ounce ginger liqueur
½ ounce simple syrup
1 ounce orange juice
Garnish: mint leaves
Garnish: dried pears
Garnish: orange & sugar
Rim an old-fashioned glass with sugar; wet the rim by wiping an orange wedge around it. Pour all of the ingredients into a cocktail shaker filled with ice. Shake vigorously until the outside of the shaker is frosted and beaded with sweat. Strain into the prepared glass filled with crushed ice. Garnish with mint leaves and dried pears.
Please share this post about Limoncello with your friends? We'd love to hear from you in the comments below.
Written by
The Tuscookany Team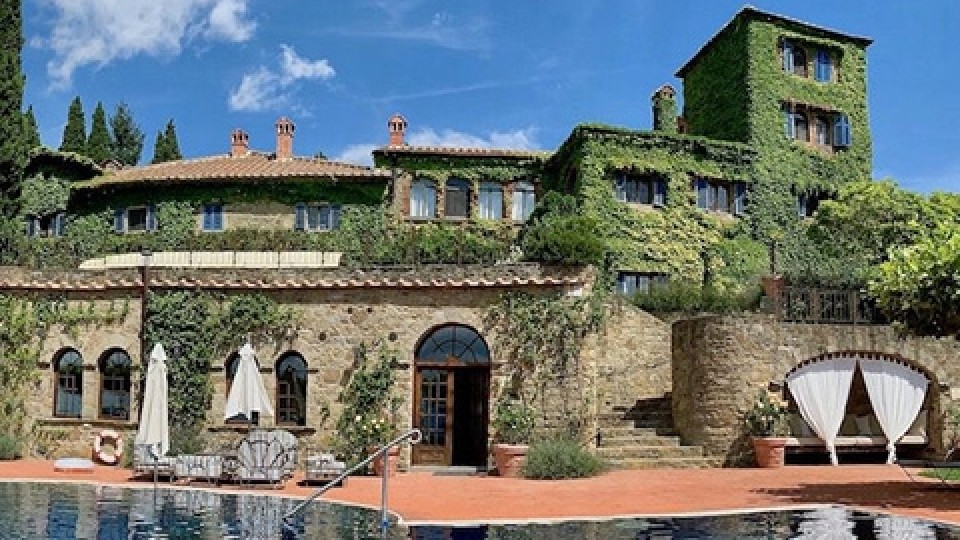 Interested in our cooking courses at one of our Tuscan villas?
Do you want to enjoy our Tuscany cooking classes with plenty of time to explore in your free time, all while staying in an amazing villa?
Reviews
How our guests experienced the Tuscookany courses
Reviews from our former guests made about their visit to Tuscookany on TripAdvisor, facebook, Twitter, Google, Chow and Yelp.