The pleasure of eating together the Italian way
April 11, 2015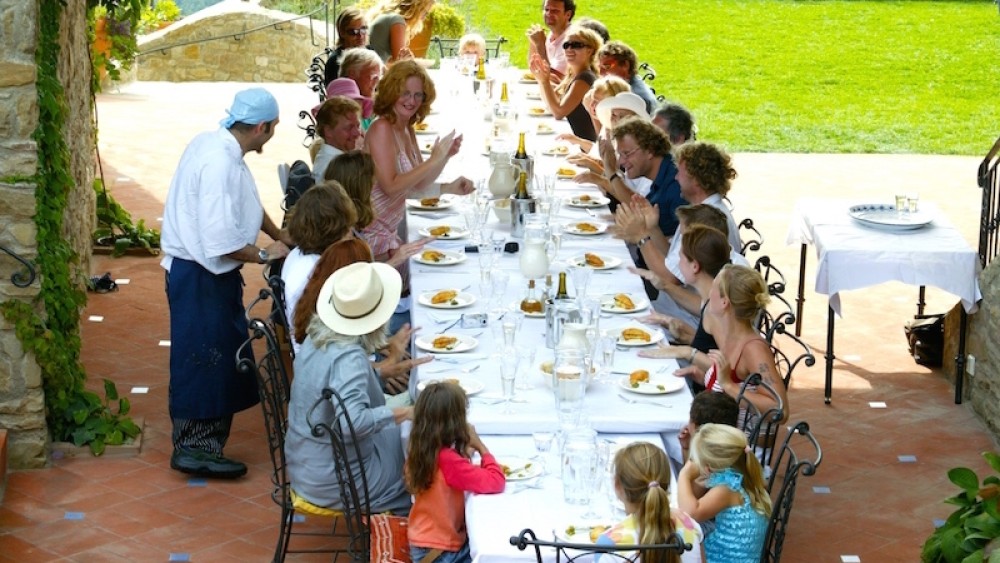 Photo Torre del Tartufo sunday lunch.
Cooking and eating together remain an irreplaceable pillar of the Italian sociability.
In Italy, gastronomy is almost philosophy… and much more than that. It is pleasure and sociability: the perfect moment to talk, share a laugh and strengthen relationships. As a matter of fact, the importance of food, home cooking and eating together within the Italian culture has been scientifically proven.
Deborah Cameron, a world-renowned professor of English who teaches at the University of Oxford, and Don Kulick, a professor of Anthropology who works at the New York University, wrote about the subject in their outstanding book Language and Sexuality (2006, published by Cambridge University Press). The authors claim that food taste is actively socialized at dinner, and compare an American and an Italian family to explain their point. While some American family frames dessert as desirable, especially for children, and labels the rest of the dinner as mere nutrition and, sometimes (think about broccoli or brussels sprouts), even as some kind of punishment, Italian families talk about food and dinner as pure pleasure. For an Italian family, the dessert is not the great prize after a painful duty, but the cathartic moment that comes through an extremely exciting social and cultural journey.
It is something you can find in the way Italians talk about food, and the people who cook food. For an Italian child, food means family and parents, it is a comforting blanket that wraps everything with its delicate warmth. Eating together with his mum and dad a home-cooked meal, a little Italian gains the sense of stability and love he needs to grow up and be happy. The mother is usually the one who cooks, and this is another important aspect of this moment of sharing. She spends a lot of time choosing and preparing the right ingredients, those that make a house smell like home, an aroma that - if you are lucky enough to embrace it with all your senses when you are a child - will stay with you for the rest of your life.
The classic Italian mum owns the kitchen, a personal universe where she spends hours and hours, sometimes with grandma. She knows the right recipe for a cold day, when the family needs a ray of sunshine and the warm touch of a homemade dinner. She is perfectly aware of the ingredients you need to fight against a bad cold, and she is ready to cook them for you. And, of course, Italian mums are the best in the world when a special day comes around: desserts, traditional recipes… you name it. Considering all this, it seems quite natural that, for an Italian, nothing is better or more comforting than whatever mum cooks.
While people around the world, especially some people in England and North America, develop family traditions based on "home delivery" or "eating out", home-cooked meals shared with the rest of the family remain a sacred, irreplaceable event in Italy. The person who cooks waits for the sincere comments of the rest of the family, looking at every expression, waiting patiently to understand whether or not the recipe hit the right spot. All this happens very slowly, while the different courses enter the room following an ancient rhythm carefully directed by the chef of the house. Flavors meet softly, mirroring the traditional combinations of the particular region where the family lives, adding a special cultural twist to a very intimate moment: a ritual passed from generation to generation, from mother to daughter, like an old esoteric ceremony.
Even a "moment with your friends" translates almost automatically in "dinner" in the Italian vocabulary, because eating together and sharing food are both metaphorical and practical expressions of commitment. Around the table, conviviality grows and relationships achieve their highest peaks. Eating together is a magical moment through which the beautiful reaches the sublime, and friendship turns into a rare form of intimacy.
The fact that in Italy women are those who traditionally cook can sometimes be misleading: men have always had their roles in the Italian culinary landscapes and rituals. In the past, men were those who gathered the food, butchered the animals, turned milk into the most amazing cheese. Even today, Italian men are usually those who are in charge of buying the right cold cuts, the perfect wine or the liquor needed to complete the dessert. Plus, especially in younger Italian families, men often cook as well, replicating what they learned from their mothers. However, even if the traditional dynamics that have characterized Italian families for centuries are changing, cooking and eating together remain an irreplaceable pillar of the Italian sociability.
It doesn't matter if the members of the family live at a different pace, have different routines and do different things: Italians eat together, sitting around the kitchen table, every day, no matter what. And then, on Sunday, grandpa and grandma, daughters and sons, father and mother: the big family, all together. You could think about Christmas dinner as an example of the perfect Italian-style Sunday convivio. Different generations merge and embrace in front of the most delicious dishes you can imagine. The grownups enjoy some local wine, grandpa tells a story, the children laugh and grandma helps mum with the second course. Then the dessert, the coffee and the liquor. Maybe a friend comes around, or the uncle who lives on the other side of town, riding his bicycle. People talk about what happened during the week, how they feel. Everything is familiar and warm. A ritual that goes on and on, year after year.  A beautiful celebration of life itself.
On our Tuscookany courses you will teach Italian dishes that are great to prepare for a family sunday lunch or even a small family dinner also read our previous post  4 Reasons Why Everyone Needs an Active Holiday in Italy
Want to share some Sunday lunch tips? We'd love to hear your stories in the comments below:
Written by
Tuscookany Team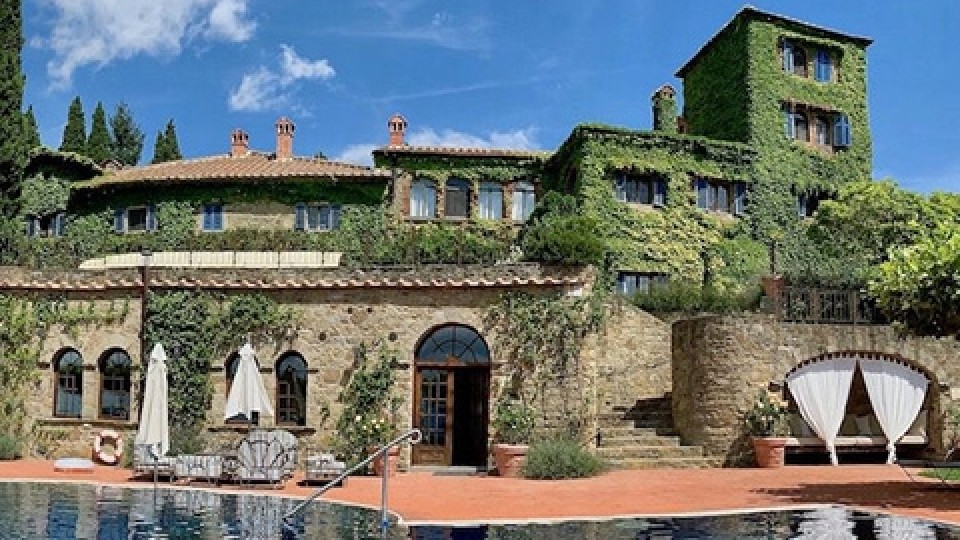 Interested in our cooking courses at one of our Tuscan villas?
Do you want to enjoy our Tuscany cooking classes with plenty of time to explore in your free time, all while staying in an amazing villa?
Reviews
How our guests experienced the Tuscookany courses
Reviews from our former guests made about their visit to Tuscookany on TripAdvisor, facebook, Twitter, Google, Chow and Yelp.