Are you looking for a new hobby in 2021 to keep you buzzy as a bee? Why not try bee-keeping?!
January 18, 2021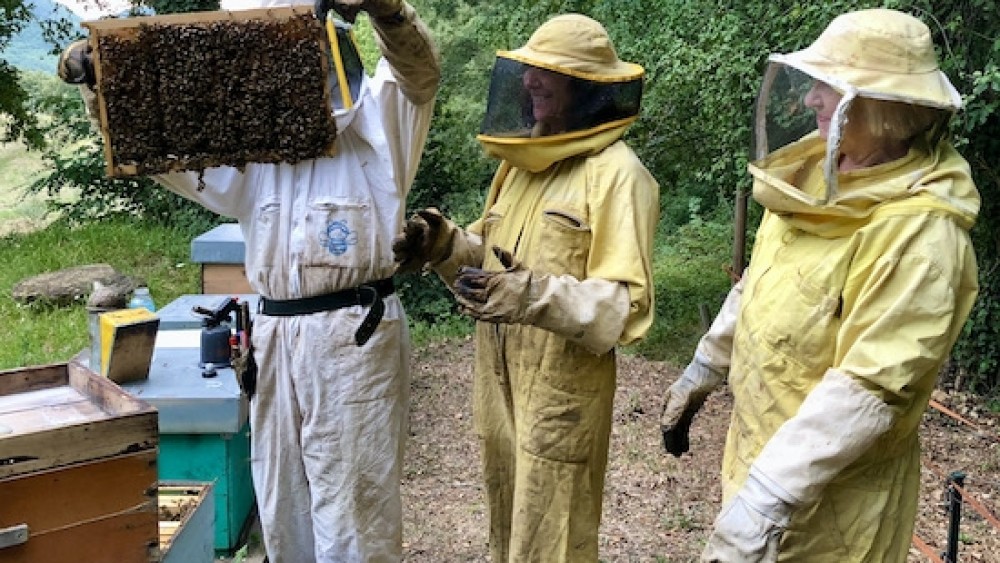 "Photo our bee-keeper educating guests on bees at Torre del Tartufo"
 
Are you looking for a new hobby in 2021 to keep you buzzy as a bee? Why not try bee-keeping?!
At our Tuscookany Cooking Schools we keep our own honeybees and produce delicious, fresh Tuscan honey for our guests!  Would you like to learn more about the importance, and the effects, of beekeeping?  Read on for this un-bee-lievable story!
Bees have been declared to be the most important living species on our planet, yet a recent study has shown a dramatic 90% decline in the bee population in the last few years.  The main reasons for their extinction include deforestation, climate change, the use of pesticides and lack of flowers.  If this continues we will have a big problem.  Bees are vital to both pollinate the food we need to survive and pollinate many of the trees and flowers that provide habitats for wildlife.  While there are other methods of pollination, including wind, birds, bats and other insects, wild bees are among the most important pollinators as they are capable of pollinating on a much larger scale. Honeybees, both wild and domestic, perform about 80% of all pollination worldwide.  A single bee colony can pollinate 300 million flowers every day.  Click on the following link to read more, WikipediA.
Why is this important for us? Well, you have a bee to thank for every one in three bites of food you eat and we can't stress enough how important food is to us: 70% of the world's agriculture depends exclusively on bees.  Without their hard work pollinating, the plants would not be able to reproduce.  What would Italian food be without tomatoes?  This is what happens in Italy: Italian beekeepers suffer 'worst honey harvest ever'
At Tuscookany we are incredibly grateful for the bees around us and have so much to thank them for.  Firstly, we are blessed with views of fully-grown, green Tuscan hills and villas that are surrounded by countless species of flowers.  Anyone who has ever visited Torre del Tartufo, Casa Ombuto or Bellorcia would agree that it would not be the same without the delightful scented lavender bushes all over the premises. Secondly, the growth of many of our favourite local organic fruits and vegetables that we use can be traced back to the work of bees.  We take high priority in using the freshest produce we can find in all our courses.  Thirdly, at our Cooking Schools in Tuscany we keep our own honeybees and have a professional beekeeper named Faini Giovanni to produce the honey.  We make three kinds of delicious honey: our classic honey, fresh Mille Fleurs honey and rich chestnut honey.  The latter is perfect to pair with pecorino cheese and walnuts.  If you want to learn more about what more you can do with this cheese then why not read our blog: Did you know this about Tuscan pecorino cheese? 
This is why we took responsibility and decided to give a safe habitat to our bees by setting up hives.  We also like to educate as many guests as we can about beekeeping and the importance of bees. Let's keep bees alive, because that's what they do for us!
Now what can you do?  If you would like to become even more educated about honeybees, why not watch the documentary "The Pollinators" on Waterbear streaming platform.  Here's a link where you can sign up for free: www.waterbear.com. When you sign up you will get access to 180 films and documentaries about food, sustainability and climate change that will inspire you!  Moreover, make your garden bee-friendly! It's easy to achieve by planting bee-loving flowers.  You can create a safe habitat where they can build homes and find a variety of nutritious food sources. You don't need a lot of space to grow bee-friendly plants. They can be grown in small gardens or even window boxes, pots and planters.  You can also get involved with local organizations and governments to find opportunities to enrich public and shared spaces. Always make sure that your garden is chemical free by not using any synthetic pesticides, fertilizers, herbicides or neonicotinoids.  Instead, use organic products and natural solutions, such as compost, to aid soil health and adding beneficial insects that keep pests away like ladybugs and praying mantises. If you want to take it a step further why not keep your own bees? See how here: Bee Built 
If reading all about honey got you excited then here is a delicious recipe for Struffoli (Italian honey balls):
490 g plain flour
6 egg yolks
6 eggs
1 lemon, zested
1 orange, zested
1/2 tsp kosher salt
1 tbsp limoncello
950 ml rapeseed oil, for frying
480 ml honey
1 lemon, zested and juiced
Icing sugar, for dusting
Candied orange or lemon peel or sprinkles, for garnish, optional
1) In a mixing bowl add the flour, egg yolks, eggs, lemon & orange zest, salt and the Limoncello.  Mix well for about 8 to 10 minutes to form a firm dough.  Refrigerate for 30 minutes. 
2) When the dough has rested, remove from refrigerator and cut into golf ball-size pieces. Roll each golf ball into a 1 cm thick dowel and cut each dowel into ¾ cm pieces. Roll each piece into a ball.  Repeat with the remaining dough.
3) Heat the oil in a 30-35cm skillet (least 7cm deep) to 190 degrees C.  Drop balls into the pan to cover about half of the surface of the oil and cook until they turn a dark, golden brown.  Use a spider or slotted spoon to turn them regularly; they will puff up while cooking. When cooked, remove to a tray covered with kitchen towel and drain well.  This should make at least 5 batches, so be patient.
4) When all the Struffoli are cooked, heat the honey and the juice and zest of the remaining lemon, in a wide 6-8 litre saucepan until quite warm, about 65 degrees C.  It will be substantially thinner at this stage.
5) Add the Struffoli and stir carefully until well coated. Remove from the heat and cool for 5 minutes in the pan, stirring regularly.  
6) Pour them onto a large serving tray in the form of either a pyramid or a ring.  Sprinkle with icing sugar and any other choice of garnish. The Struffoli can be kept for up to a week, if your guests allow!!
Buon Appetito and share this blog if you think it was interesting!
The Tuscookany Team
Written by
The Tuscookany Team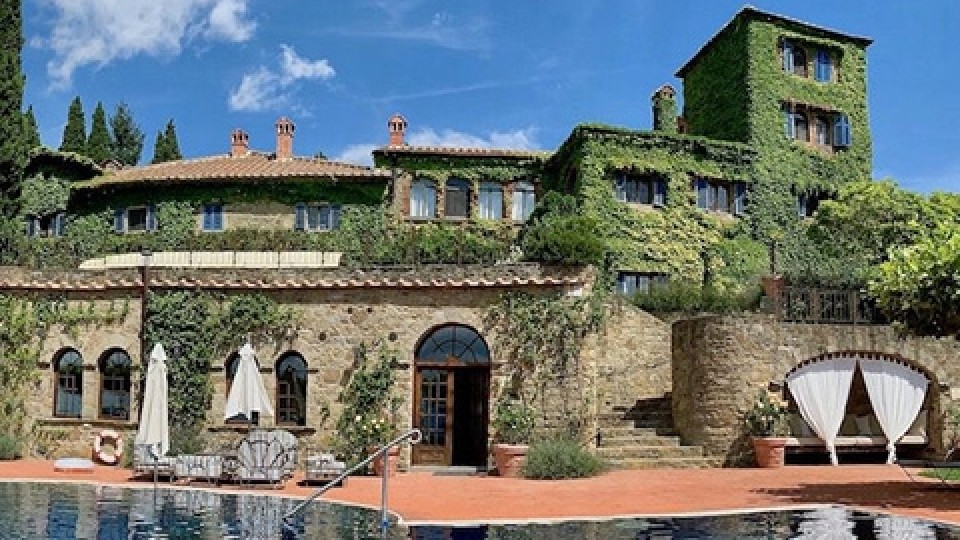 Interested in our cooking courses at one of our Tuscan villas?
Do you want to enjoy our Tuscany cooking classes with plenty of time to explore in your free time, all while staying in an amazing villa?
Reviews
How our guests experienced the Tuscookany courses
Reviews from our former guests made about their visit to Tuscookany on TripAdvisor, facebook, Twitter, Google, Chow and Yelp.