Review on
Casa Ombuto
Fun Italian cooking Week in Italy, Busy Days, Great Food - Will Do It Again
June 4, 2017
Fun Italian cooking Week in Italy, Busy Days, Great Food - Will Do It Again
5 of 5 stars, Reviewed on TripAdvisor by Esprsotini, june 2017
This was an awesome way to experience Tuscan and Mediterranean food in a remote villa with beautifully appointed rooms and modern conveniences. The property consists of a a main Villa with very nice rooms, the Cantina for cooking classes and dining, and surrounding grounds with a pool, fitness area, spa, and a forest. My wife and I took the one week Mediterranean session in the middle of April.
I went to eat, drink, and cook. I was not disappointed. If you are a pedantic foodie who has had professional chef courses, don't bother with this. This is way too much fun for you. You should stay home and irritate your loved ones. At Casa Ombutu, they are not going to discuss the angle of the 10 inch blade when dicing an onion. They will simply tell you, "make the pieces smaller!". This is about enjoying the ingredients and methods for cooking delicious mediterranean food. (Although you *will* learn how to properly prepare a squid and how fresh pasta is made in Italy.)

Day Scenario: Wake up, go to Cantina, prepare a cappuccino, eat a delicious breakfast, meet with Chef Laura at 10:30, take notes as she explains what is about to happen, fasten your seatbelt, set speed to Warp 3, cook a delicious lunch and a fabulous dinner.

Evening: Enjoy the fruits of your labors and of your colleagues. It is time to enjoy a lovely sit-down dinner with no less than 3 wines and 26 aperitifs. Chef Laura and staff set the table and do the finishing touches and plating.

Night: it is 10:30 at night, most have retired to their villa room (rustic but updated and well appointed - quite comfortable), the large fire place in the cantina is aglow, the staff has retired, there is a bottle of fine Grappa, the house guitar next to the piano is in tune and nobody cares that you mangle the intro to stairway to heaven.
Another log is added to the fire by yourself because you are the only ones still awake and enjoying the beautiful Italian evening (and Grappa).

Free Day: Some choose to stay in the cantina by the fire and read a book. Some go to beautiful Arezzo and buy a suitcase to haul all of their Italian purchases home.

Summary: If you can do a Tuscookany week, you should !! Chef Laura Giusti, her assistants, and the hotel staff were delightful and always helpful.

Tips:
These are the lessons learned visiting Italy and Florence for the first time.
• a shot of espresso con alcohol is half the price of a regular Starbucks Latte' in USA.
• you can buy ceramic dishes or leather and have them shipped home, but you will be hit with a duty tax after the fact. It's okay, just do it.
• before driving between major cities you want to fully understand the Autostrada toll system. I nearly had a nervous breakdown at the exit booth. It boils down to this. You enter the first booth and take a ticket. When leaving the Autostrada you insert your ticket at the exit booth. Then yell, "I don't speak Italian" at an unmanned booth, then pay for the toll BUT you should probably have lots of cash. The booth won't take credit cards without a PIN and the booth has no idea what the phrase "Help I don't speak Italian" means. There is a slot for cash.
• Familiarize yourself with the culture: The retailers and even the supermarkets are closed from about 1:30 pm to 4 pm. The restaurants are open from about noon to 2:30 so don't expect to buy your backup supply of vodka and tonic at the supermarket at lunch time and don't expect a mid afternoon lunch. Consider bringing a shiny puffer jacket - this is a fad that will not die - the jackets are warm though. Do not listen to advice that you should dress like the Florentines and arrive in fine leather shoes and a sport coat. They all wear sneakers - tasteful ones. Not one Florentine wore leather shoes, but they do look marvelous in their sweaters and neck scarves.
• The food is delicious in Tuscany. Fresh ravioli, bistecca, etc., however the small takeout pizza place in Poppi was at best par with Domino's. Real restaurants have fantastic pizza though. Also remember that "pepperoni" in Italy is the word for bell peppers not spicy salami.
• Hotels don't have ice machines. Think ahead... Vodka. Tonic. *Ice*. You want to befriend the bell cap so as to get a pail of ice.
• Florence. If you spend time in nearby Florence, do not rent a car. There are taxis everywhere to get you to and from the airport. They have access to all the streets that you do not. They drive like a James Bond chase scene only with more hubris and ebullience plus it is cheaper than a rental. The taxis are punctual. You will mostly walk while staying in Florence.
• Italians are genuinely friendly. Spend a few minutes learning the language such as, "Il conto per favore" for the check, or "un espresso per favore, con alcohol" for an afternoon beverage.
• Bring a scarf, a sweater, a puffer jacket, and good walking shoes.
Esprsotini Los Angeles, California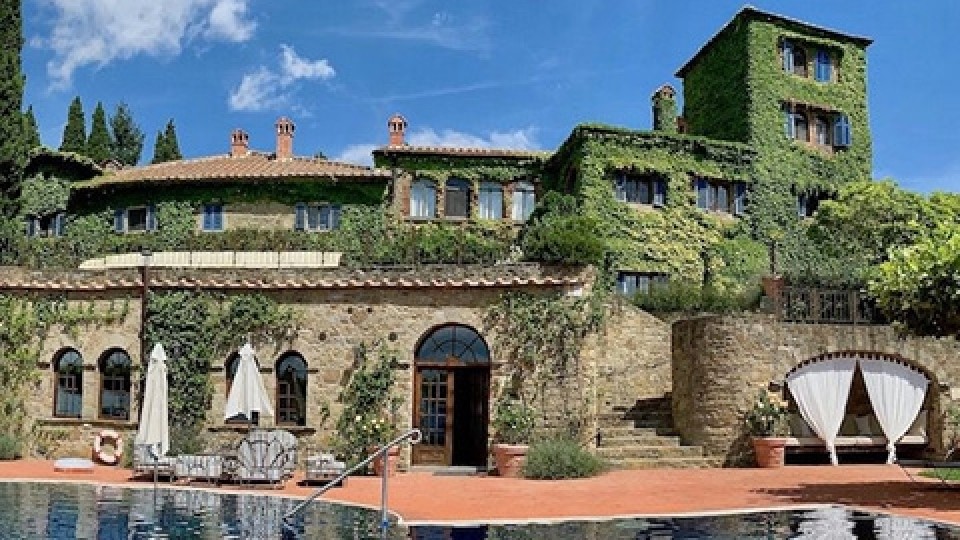 Interested in our cooking courses at one of our Tuscan villas?
Do you want to enjoy our Tuscany cooking classes with plenty of time to explore in your free time, all while staying in spectacular villas?