Laura Giusti
Chef at Bellorcia Italian cooking course
Laura was born in Subbiano, which is a charming village close to Arezzo in the heart of Tuscany. After completing a degree in Italian Literature and philosophy at the University of Sienna, she took a post graduate course in "archives studies" in Cortona.
Her passion for food and wine inspired her to pursue this as a profession. She studied to be a Professional Sommelier and she also completed an Oil "dégustation" course. To improve her cooking skills she took courses with famous chefs from Florence, Rome and Lucca and with the "Slow Food" organization and Institute of Alberghiero near Siena. She has also completed a Moroccan cookery course in North Africa.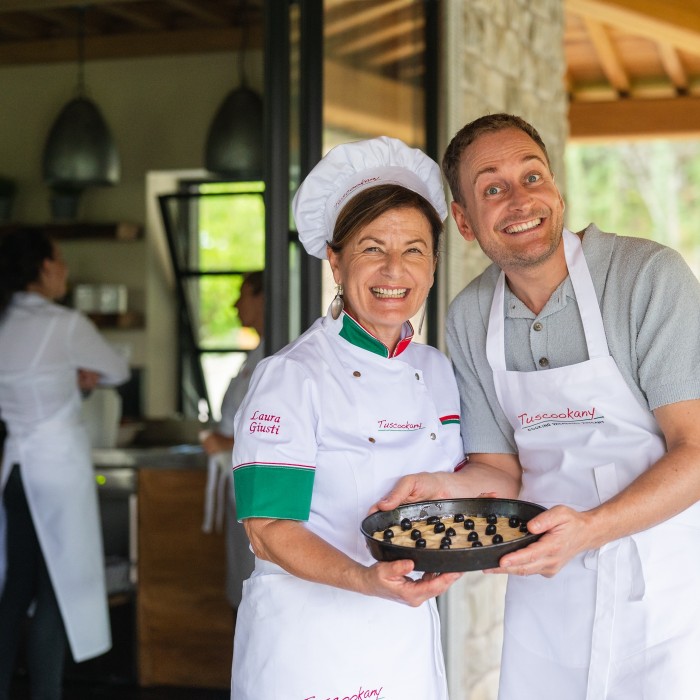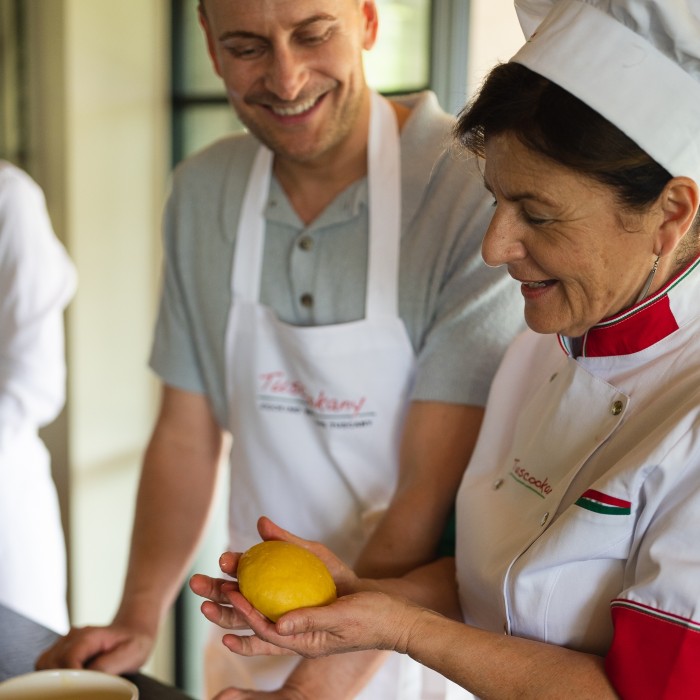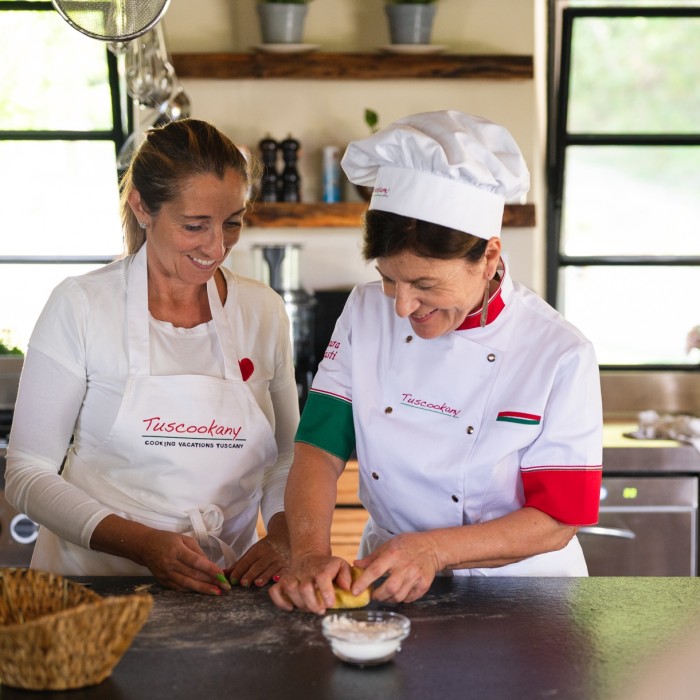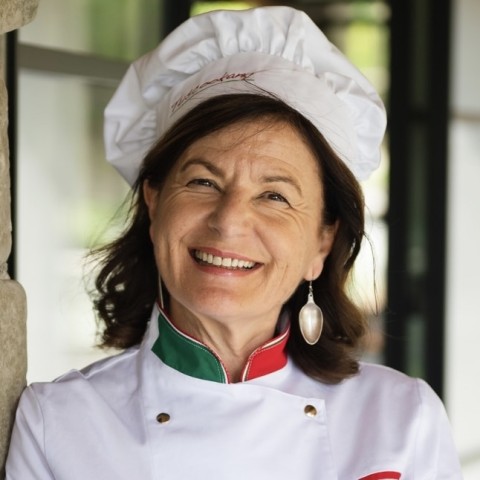 "Unite my two greatest passions, cooking and teaching"
In 1989 she opened up her own restaurant in Capolona near Arezzo "Il Giardino Sull 'Arno" where she specialized in functions, weddings and private dinners.
She started teaching in 2002 at an Italian cooking school specializing in Traditional Tuscan food and was happy to finally, as she says: "Unite my two greatest passions, cooking and teaching".
Her extensive knowledge of food and wine, combined with her passion for teaching and personal charm will inspire you,
Laura teaches the full week Italian cooking lessons at Bellorica To whet your appetite we invite you to look at her sample menu.
Author of the cookbook Tuscookany The flavours of Tuscany.
Laura's menu
Sample of Laura's menu for the Italian cookery course at Bellorcia
Please note that you will be receiving a cookbook with over 100 recipes and the sample menus below is just an indication to whet your appetite! This changes depending on the season and group. If you have something special you have always wanted to learn to make our chefs are happy to see if they can plan this in too.
Tomato Bruschetta
Cheese Baked with Prosciutto Cheese
Bresaola Stuffed Rolls
Potato Salad with Tomato and Red Onion
Pecorino Cheese and Peaches
Rice Salad of Venus
Panzanella
Zucchini Flowers Stuffed with Cheese Pecorino
Pear Flan
Crispy Dough with Tomatoes and Zucchini
Chilli Creme Brulee
Small Quiche with Pumpkin and Radicchio
Parmigiana
Tagliatelle with Meat Sauce
Ravioli with Butter and Sage
Tortellini with Sundried Tomatoes, Basil And Mozzarella
Risotto with Saffron
Pasta E Ceci
" Gran Farro" Soup
Tomato Soup- Pappa Al Pomodoro
Leek Cream and Gorgonzola
Pici with Broccoli, Bacon
Fried Crumbs Pansotti with Nuts
Tortelli with Beetroot and Asparagus Cream
Potato Tortelli
Florentine T-Bone Steak
Ossobuco
Pork Filet with Rosemary, Capers and Anchovy Sauce Pork Tenderloin with Pancetta, Grapes and Walnuts Roast Pork Lion-Arezzo Style
Wild Boar
Chicken Salad with Peppers
Supreme of Chicken with Eggplant Carpaccio Swivels
Hunter's Style Rabbit
Saltimbocca Alla Romana
Veals Rolls
Chicken Bocconcini in Red Wine
Baccala 'Alla Fiorentina
Turbot Fillet with Olives
Piatti verdure/Vegetables
Grilled Vegetables
Roast Potatoes with Aromatic Herbs Slow-Roasted Tomatoes with Garlic and Oregano
Cannellini Beans in Tomato Sauce

Chocolate Mousse
Grandma's Cake
Zabaione with Strawberries
Creme Caramel
Tiramisu
Panna Cotta
Rice Milk and Raspberries
Chestnut Mousse with Persimmon
Small Apple Cakes
Zuccotto
Zuppa Inglese
Have fun cooking!
What you can expect from Laura's menu
Come and have fun cooking with chef Laura and be inspired by her extensive knowledge of the Italian cusine and the background of where the dishes came from and evolved. Her natural charm, patience and passion will make the cooking lessons fun and informal.