Review on
Torre del Tartufo
"Good times at Torre!"
September 15, 2010
"Good times at Torre!"
4 of 5 starsReviewed September 15, 2010
As much as it is possible, I will try to distinguish my subjective experience at Torre del Tartufo from the objective nature of the location, service, classes etc. but let me start out by saying that I had a wonderful experience at Torre del Tartufo!! My mother- and father-in-law took their three kids (ages 23-28) and the significant others of two of the kids on this trip (party of 7). We expected to be isolated and do lots of cooking, eating, drinking and hanging out by the pool. And that is what we got!
Location: Ok, so you cannot write about Torre del Tartufo without writing about that treacherous hill leading up to the villa. We rented a 9-seater van and my father-in-law is an excellent driver but I am pretty sure there were a few beads of sweat on his forehead as he charged up the hill…It truly is as scary as everyone says…BUT, you do forget about your fear once you arrive at the gorgeous villa. The grounds look beautiful and the view is spectacular. It is isolated and very romantic. We went during the last week of August and the weather was ideal. Sunny and hot during the day and it cooled off at night.
Rooms: Our room was in the tower and it was absolutely lovely. The view was breathtaking, the beds were comfortable and at night, the fan cooled down the room so it did not matter that there was no air conditioning. I really slept well there and I'm usually a picky sleeper! The bathrooms, although very quaint and clean, were not well-lit so getting ready at night when the sun had set was difficult because it was so dark. We heard some of the other guests complain about this because some of their bathrooms didn't even have windows so there was no way to get the daylight to provide visibility. Another tiny complaint is that the towels are very rough. I don't mind this because I consider it as added exfoliation but some people with sensitive skin found this unpleasant. Altogether, I thought our room was great. The point for me was to be outside as much as possible so the rooms are not the most important thing to me.
Cooking Classes: The best thing about Torre! Absolutely amazing!! I love to cook so this was super fun for me, and I was happy to see my husband learning how to make fancy things like zucchini flan, ravioli, béchamel sauce etc.! Everyone receives a cook book with Franco's recipes and it's a gem – useful AND a great memory. Franco and Paola are awesome – so patient and helpful, and FUN! However, I must warn those whose idea of cooking involves stirring soup, licking the bowl of cookie dough or watching the Food Channel – you actually WORK. It's approximately 4 hours of cooking during which you and your team are in charge of one of the four courses you will have for dinner later that night. Sometimes there's 'group cooking' like when we made our own pizza and pasta dough, but most of the time, you are following a recipe in Franco's cook book and competing for Franco's attention for help. This is fun, though. It feels like organized chaos and the results were, at worst good and at best mind-blowingly delicious. My father-in-law mastered the art of cooking with a wine glass in one hand at all times…my sister-in-law loved the Minestrone so much, she cooked up a batch large enough to feed an army upon her return home…and I found the little tips Franco gave tremendously helpful (such as how to cut the acidity out of your tomato sauce by using baking soda!) I will always remember these cooking classes fondly.
Meals: Awesome! As mentioned above, we cook our own meals…well, those of us who participate in the cooking class, that is. Breakfast was good but not as elaborate as you might expect. However, considering how much food you eat during lunch and dinner, a large breakfast is hardly necessary. You can order your eggs from the lovely ladies who put on breakfast in the morning and clean the rooms in the afternoon, you make your own coffee (which as a former Starbucks barista was pleasantly nostalgic for me) and fresh squeezed orange juice, and you can help yourself to cereal, different breads with sweet or savory spreads (cheeses, prosciutto, salami etc.), yogurt and tons of fresh fruit. Lunch is served at 1 pm and usually consists of a salad, a simple pasta dish, bread and dessert. Although simple, I enjoyed lunch because I love pasta so any opportunity to have it is happily welcomed by me. (Especially when I could help myself to a gigantic chunk of Parmiggiano Reggiano in the guest fridge.) By 1 pm, we were ready for the first of many glasses of wine, which was provided on the table at lunch but to which you could help yourself at all times of the day. I cannot recall any names of the wines we had and I cannot be considered a connoisseur by any stretch of the imagination, but I thoroughly enjoyed the selection of wines. The house wines were great and at dinner, we were served a 'fancier' wine which was also great. After dinner, Franco would bring out a giant basket full of liqueurs – crazy! The Fragoli proved dangerous for some of us (…) but this vast and appetizing selection made for some pretty hilarious conversations after dinner…
Pool: The pool is a good size for hanging out, drinking wine and relaxing, but I also managed to swim some laps and get a good work out there. The temperature is perfect on a hot summer's day. On the last day, the pool turned dark green, probably from algae infestation. We couldn't swim in it and this was disappointing but at least this happened on the last day only. The hot tub was a bit of a disappointment because of all the wasps. It is heated by a wooden furnace (which fills the air with a delicious scent of burning wood) and I am not sure why the wasps love it but they certainly do. The temperature was also difficult to regularte. It felt a bit like "warm"-tubbing or boiling...and that just doesn't have the same appeal. In Canada, we are very keen on hot-tubbing so I think I may be a hot-tub 'snob' :)
Activity: I am a bit of an exercise fiend. Throw in a week of quasi binge-eating, a steady consumption of alcohol and a lot of sunny inactivity by the pool and this can be a recipe for disaster for me. I knew this ahead of time, though so I shed about 5 lbs before coming on this trip so I wouldn't feel to bad upon my return to reality. The point is that in my absolutely perfect world, Torre would be outfitted with a state-of-the-art gym with free weights, elliptical trainer, treadmill, etc. In reality, there is a stationary bike and a rowing machine. I think it is unfair to expect too much more, though, because while I'm admittedly a bit of a 'fiend', most people go on vacation to relax and happily let their exercise routine fall by the wayside. My solution for this problem was to go running almost every day and do a bit of yoga. Doing yoga on the balcony of my room overlooking the rolling hills of Tuscany was pretty epic – when will I ever do that again? Very, very cool. The running part was arduous – I sure earned my dinner after overcoming that treacherous hill. I ran down the hill and then into the little town area nearby. The flies were pretty unbearable at first and I was 'swatting' whilst running…but then I borrowed some bug repellant and while the swarm of bugs would stay with me almost the entire time, at least they didn't land on my skin because of the repellant. I think it's safe to say that you have to be quite dedicated to running to put up with the flies.
The book we got also provided some biking and hiking information and some guests did some daytrips to Arrezzo. My mother-in-law, the person who booked this trip for us, was worried that the kids would be bored but I think we all enjoyed a break from the hustle and bustle of work. It was great to just spend time with the family and relax.
Excursion: I would say this was the weakest link for me. We took a bus to Poppi – on the way there, I fell asleep as did most of the passengers sitting in the back of the bus. The tour guide did not have a loud speaker so we could barely hear her and after asking her to speak up, we still weren't able to hear her so she basically lulled us to sleep. When we arrived in Poppi, we visited the castle there and walked through the little town. This was pleasant and it was fun exploring the castle, walking to the top of the bell-tower and looking out onto the breath taking hills of Tuscany. After Poppi, we hopped back onto the bus and drove to a farmhouse where our hosts demonstrated how to make cheese. This was interesting - I had never seen anyone make cheese. We were in this family's kitchen, crowded around the son who was making a fresh batch of cheese in front of our eyes. The family let us into their private homes and treated us like family. We ate an absolutely delicious meal, prepared by the Mamma and it was a very fun experience to see how they lived, eat how they ate and feel a sense of conviviality and warmth that I always associate with the Italian Familia.
After lunch, the father showed us the farm animals…not for everyone, but I loved it! We saw a 5-day old bunny and lots of pigs! I have always lived in big cities and found it thoroughly enjoyable to see these animals.
Then, we got back on the bus and regretfully waited about 10 minutes for our tour guide to purchase some cheese from the farmer. It was bit surprising to us that she would run a personal errand on our time, and even more surprising that we were not offered the same opportunity. I am sure some of us would have enjoyed buying a nice fresh piece of pecorino.
Our next stop was a ceramic factory. This was another let down…I don't know if our tour guide can be blamed entirely for this, but we didn't get any information about how the ceramic goods are made and decorated, instead, we were brought to the showroom and "allowed" to roam around for what seemed like an eternity. It was boring for those of us not interested in purchasing anything but I think it would have been cooler if we had first learned how all these beautiful pieces of ceramic are made. To be fair, the tour guide did ask us if we wanted an explanation and nobody seemed too enthused so she just led us to the showroom. It was hot and after lunch we were used to having a siesta, so I think the lack of enthusiasm should have been ignored because instead of being bored in the showroom, we would have been a bit tired in the manufacturing area and learned something at the same time.
After the ceramic factory, we headed to a vineyard. The location was absolutely beautiful. Our hopes were high. We got to try 3 different wines at different price points. That was about it. I was a tad disappointed because I would have liked to learn a bit about how wine is made etc. My husband especially would have enjoyed learning about the process instead of just tasting three different wines. However, we really enjoyed the wines. My father in law bought two bottles which he shared with everyone that night. When we got home, the owners were away so we were left to our own devices and ate the food we prepared the night before, which the tour guide set up for us. It was a bit strange to be left in the villa by ourselves (in terms of safety – who to call if something happened etc.) but I personally didn't mind that part though I heard many grumblings about that. We actually had quite a bit of fun that night, helping ourselves to additional treats in the guest fridge and feeling like when the cat's away the mice will play.
Miscellaneous:
I loved truffle hunting with the dog – what a unique experience!!
The 'kids' (i.e. 23-28 year olds) had a great time drinking and dancing in the 'bar' area one night. The other guests probably weren't too pleased with us but we only caroused around one night…
Internet worked well, which was very helpful.
I love that all the herbs come from the gardens – how FUN to pick your own sage, thyme, rosemary, basil, lavender etc. at will whenever you need it! Really inspired me to get some herb plants as well.
Meeting the other guests was wonderful! Each person added their own unique "spice" to the mix and we shared many laughs with each other.
Altogether, I would definitely recommend Torre del Tartufo to people! I had a wonderful experience there and although I probably woudln't go again (I'd rather explore new things), I definitely say that if you like to cook and are looking for a totally relaxing week, you should check it out! Get ready to gain some weight! :)
Stayed August 2010, traveled with family
4 of 5 stars Value
4 of 5 stars Location
5 of 5 stars Sleep Quality
5 of 5 stars Rooms
4 of 5 stars Cleanliness
4 of 5 stars Service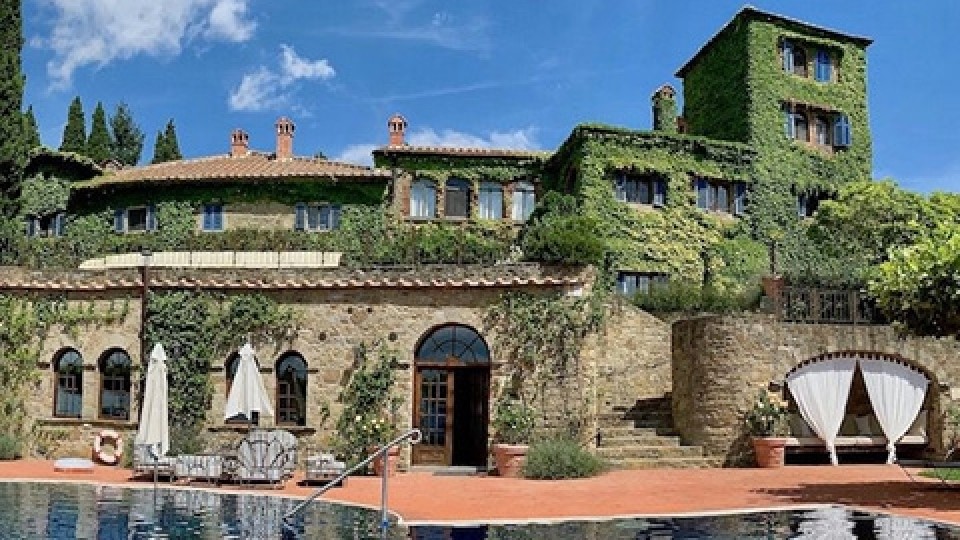 Interested in our cooking courses at one of our Tuscan villas?
Do you want to enjoy our Tuscany cooking classes with plenty of time to explore in your free time, all while staying in spectacular villas?